Shopping Cart
Your Cart is Empty
There was an error with PayPal
Click here to try again
Thank you for your business!
You should be receiving an order confirmation from Paypal shortly.
Exit Shopping Cart
City to Shore Weddings & Special Events
Certified & Professional
Wedding ​Planning, Design & Coordination.
Wedding Day Essential Items, Amenities Basket & Emergency Kit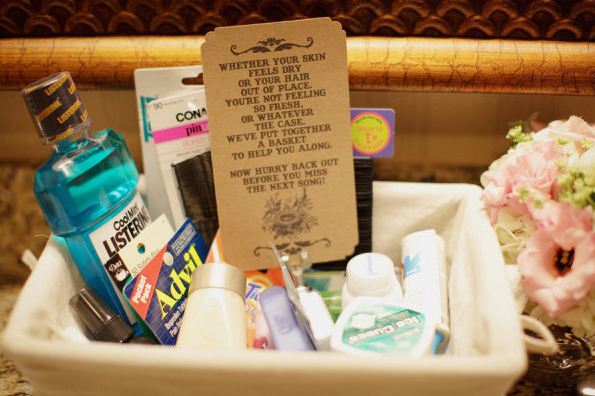 An Emergency Kit is a must have for the day of any special event. As a professional and wedding and event planner across the South Jersey Shore and Pennsylvania, I would never show up to a wedding without one. While an emergency kit is not just a necessity for a planner, it's also a great idea for the bride and groom to have when preparing for their big day, as well as, to offer to their guests in the form of a Bathroom Amenities Basket. .
Anticipating the minor or even major mishaps that can go wrong on the big day is the key to being a successful event planner. After being in the wedding & event planning industry for close to 15 years, it is safe to say that I've seen it all…from a couple forgetting their marriage license, to an officiate not showing up at all and having to fake a ceremony, forgetting wedding rings, dinner being over an hour late, drunken family members causing scenes, brides losing so much weight after their last fitting that I had to pin their dress together, fist fights, over tanned bridesmaids, allergic reactions, all of the way to hurricanes, rain, and even power outages. I definitely over the years have learned to attend every event to "expect the unexpected." As a professional planner with experience and the ability to prepare and think quick, having these items will help smooth any situation! 
Below is a list of essential items that I have compiled for your Cape May Wedding, Long Beach Island Wedding, or Philadelphia Wedding: 
Bride's Mini Travel Kit:
These items are great to keep in a purse.
Mini Sewing Kit
Mini Emergency Kit (just the essentials—like band aids, Tylenol, etc.)
Listerine Strips
Makeup Remover Towelettes
Bobby Pins (black, brown, blonde)
Deodorant Wipes
Moisturizing Hand Sanitizer Wipes
Oil Blotting Paper
Static Sheets
Lint Wipes
Heel Protectors (for walking on grass)
Safety Pins
Pearl Pins
Nail File
Wedding Day Musts:
We, as Luxe Weddings professional planners, carry items like these for the wedding party in our Emergency Kit to every wedding.
These items also make perfect items to put in your Bathroom Amenities Baskets for your guests!
All-Purpose First Aid Kit including, Tylenol, Advil, Tums, & Benadryl
Breath Mints / Listerine Strips
Glucose Gel Packs
Sunscreen
Bug Repellent Stick
Nail Polish Remover (regular & gel)
Dental Floss Sticks
Tampons / Feminine Care
Mini Hair Spray
Deodorant Wipes
Moisturizing Hand Sanitizer Wipes
Makeup Sponge/Wedges
Oil-Blotting Paper
Shout Stain Remover Wipes
Baby Powder
Spray Deodorant or Deodorant Wipes
Lotion
Earring backs
Toothbrush & Toothpaste
Rubber bands (in black, brown, nude)
Bobby Pins (in black, brown, blonde)
Heel Protectors (for walking on grass)
Chapstick
Safety Pins
Pearl Pins
Mini Mirror
Fashion Tape
Diamond Hair Pick/Comb
Cufflinks
Black Socks
Lint Roller
White Chalk (for stain coverage)
Tweezers
Nail Clippers & File
White and Clear Nail Polish
Hard Candies (something that won't stain their tongue—I usually opt for Werther's original hard candies).
Static Guard
Mini Goo-B-Gone
"Wine Away" Red Wine Stain Remover
Grandma's Secret Spot Remover
Tissue Packs
Blister Repair
Mirror & Powder Compact
Bottle Opener
Wine Bottle Opener
Five Hour Energy
Razors
Small Zip-Loc Baggies
Baby Wipes
Additional items in a Professional Planner's Production Kit:
Business Cards (this is a must!)
Pens & Pencils
Permanent Markers & Highlighters
Whiteout
Binder Clips (assorted sizes for pinching loose dresses!)
Paper Clips
Mini Stapler & Staples
Blue Envelopes (for vendor gratuity)
Generic Wedding Cards
Lighters
Heavy Duty Flashlights (always check batteries beforehand)
AAA & AA Batteries
Mini Tape Measure
25' Tape Measure
White & Black Zip Ties
A Roll of Baker's Twine (perfect for lining up the aisle or a row of chairs)
Green Outdoor Extension Cord
Power Strip
Cake Knife & Serving Set
Wedding Bands
Box of Tea Light and Votive Candles
Hot Glue Gun & Glue Sticks
Glue Dots
Wind Clips
Staple Guns & Staples
Sand Paper
Bride & Groom Umbrellas
Mini Scissors
Plastic Forks, Knives, Spoons, Straws
Garbage Bags (in clear, white, and grey—all in various sizes)
Assorted Tape: Duct Tape, Double Sided Tape, Blue Painter's Tape (for labeling tables/chair counts during set-up, etc.)
Box Cutters and Scissors (assorted, including ribbon scissors)
Floral Wire, Floral Tape, Stem and Wire Cutters
Satin Ribbon (to match the event's color palette, white, ivory & nude)
Mophie Battery Pack (for recharging my mobile devices on the go)
Phone & iPad Charger
Coloring Books & Crayons
 
Flip Flops

Hosting a destination wedding in a shore town in New Jersey has a lot of details involved, and one of the those major details would be finding (sometimes it may feel like hunting!) for group accommodations and room blocks for your guests. While there are plenty of hotels throughout most shore islands that do offer wedding room blocks, here are a few tips to help you with your search:
Bed + Breakfasts:
While the thought of having your guests stay in a quaint Bed + Breakfast in a shore town such as Cape May, or Stone Harbor sounds lovely, there are not many rooms in these accommodation types. I will not say never, but unless you are renting out the entire place, it is very rare to find one that will hold a room block for you. They may not offer you a wedding room block, but you can post a few of these that do have availability on your wedding website, and your guests to call them directly.  
Season:
Keep in mind that most weddings that take place in shore towns, like Cape May, are in the 'off-season'. I have yet to find a summer hotel that will block off any amount of rooms for a group in high season because quite honestly, they do not need the summer business and know they will book the rooms on their own. In prime season most hotels want a minimum of 3 night stays, in addition to, the rates are the highest during that time; thijs might be a lot for your guests.
Rates:
Our goal is to always find at least 2-3 hotels that will offer different types of rates for your guests to choose from.
I get asked the question often: What's the point of making a room block if my guests can get those rates on their own?
• Having a block of rooms gives you the flexibility to know who has or have not booked their room.
• It may not be in your plans yet, but if you decide you want to offer a welcome bag to your hotel guests, you now know who is stayinbg where.
• Some couples choose to offer transportation for their guests to and from the wedding ceremony and reception. If that is the case, then wouldn't it be great to have a majority of your guests staying in the same location?!
• Most group blocks try to keep the party on the same floor, which helps in making this a "wedding weekend" filled with fun.
I hope some of these tips helped you with your search for your wedding room block in your shore town. If you feel you could use more help in this area, please feel free to contact us with questions! [email protected]  (267) 961-3282
/